Prefabricated Stadium Buildings, Press Boxes and Ticket Booths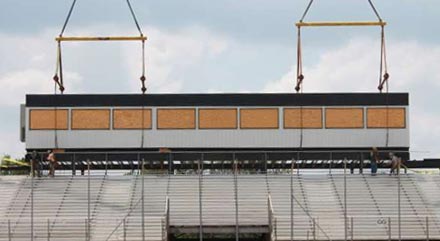 Modular construction addresses many of the challenges of arena and stadium building. From retail shops and food vendors to press boxes, guard shacks and ticket booths the building facilities required by arenas is akin to those seen in a small city.
Working with an experienced modular building specialist when designing buildings for outdoor activities and sporting events helps avoid costly delays and helps ensure the safety of those using the end product.
Don't delay call Building Pro today @ 713-880-2801 to receive FREE quotes on your modular stadium buildings, press boxes, vendor shacks and ticket booths.