Modular Restrooms, Showers and Toilets
Restroom and Shower Facilities For Truck Stops & Campgrounds and Portable Toilet Trailers For Oil & Gas Crews and Disaster Relief Areas

Our modular restroom, shower and toilet buildings offer durable and attractive solutions for your public use facilities. Our permanent buildings have been used for campgrounds, parks, stadiums and RV parks. Modular buildings offer numerous interior and exterior finishing options including a variety of architectural choices, colors, flooring and lighting - and Building Pro provides top notch design assistance during your planning phase.
Your building arrives at your location completely fitted with your chosen features (number of toilets or stalls, sinks, showers, changing areas and water fountains) and ready for on-site installation.
click any image to enlarge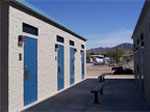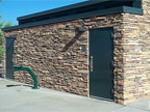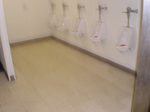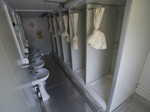 Portable Showers and Toilets for Events, Concerts, Festivals, Disaster Relief Areas & Temporary Job Sites
Our mobile or portable shower and toilet trailers offer fast, affordable solutions for outdoor events, concerts & festivals and provide needed amenities for disaster relief and recovery efforts.
click any image to enlarge